Hola!
Soy Michelle!
Hello, I'm Michelle. I'm a 3rd year direct entry student at the University of Greenwich from Indonesia & Canada. In July 2017, I graduated from the University of Greenwich with a BSc (Hons), Digital Media Technologies, with First Class Honours. I love travelling, learning, and design.
Greenwich Global Mobility scholarship
I'm grateful to have been awarded the Greenwich Global Mobility Scholarship from the University of Greenwich and Santander Universities and be given the opportunity to travel to Chile from July 1 to July 17 to learn intensive beginner's Spanish and learn about the Chilean culture.
15 hour flight done right ✈️
7+ hours of sleep
3 movies watched
2 meals eaten, with
1 piece of chocolate for dessert!
Touchdown
in south america! 🌎
I can't believe we're actually here.
Ahh, I'm so excited!
Valparaíso 🇨🇱
This colourful, quirky, dilapidated, poetic, and street art-filled port city has been my home in Chile for the past 2 weeks.
Street Art 🎨
The street art of Valparaíso.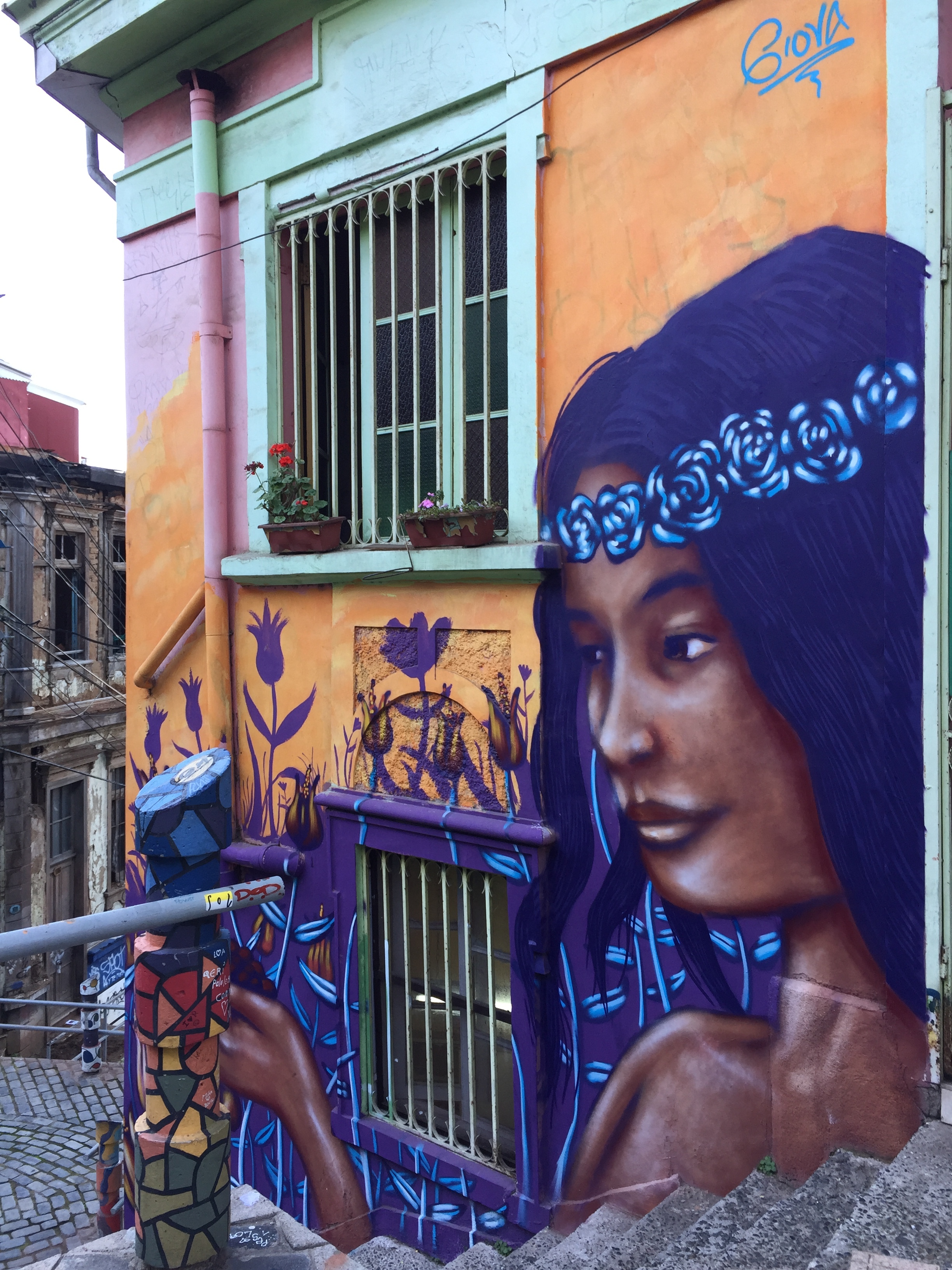 Universidad Técnica Federico Santa María 🏫
We studied at Universidad Técnica Federico Santa María (USM)'s classrooms with our two instructors Marcella and Felipe. I love the way they taught us.
We learned numbers by playing Bingo, we learned professions by doing word search, we took a field trip to the local market to learn the names of fruits and vegetables. Our classroom exercises were fun and memorable.
"You are not linguists, you are users of the language."
– Felipe
I came here only knowing a few Spanish words and didn't know how to form a sentence on my own.
I now leave being able to understand what's being said and can speak a bit of Spanish!
Yo hablo poco español!
MY Host familia ❤️
I hit the jackpot when it comes to host families. My host mom is Gabriela. I call her Tía Gaby, which means Aunt Gaby in Spanish. She's a wonderful, top-notch chef. Yep, a legit, professional chef that constantly feeds us crazy delicious three-course (if not four-course) meals for lunches and dinners! Her husband, Marco, is a mechanic, and they have three children. My flatmates are Ryan (also from the GGMS programme) and Bastian (a student studying engineering at USM).
Meals in Chile 🍲
We start with a soup and/or salad before our main dish and end our meal with a sweet dessert. We drink fresh juice every lunch.
It's so chilly in Chile! ❄️
I had to. It's winter here.
Mucho Frio!
I slept with 5 blankets! I wore anywhere from 3-5 layers when out and about.
So glad I had packed:
Toques
Scarves
Rain jacket
Winter jacket
Winter boots
Gloves
Vinos Emiliana 🍷
We took a field trip to the Casablanca wine region to visit a one of Vinos Emiliana's vineyards. I am in awe of the organic and biodynamic agriculture at Vinos Emiliana. They truly care about the environment and their employees!
Also fell in love with these alpacas, they're just adorable!
Sandboarding in ConcóN 🏂
Had a blast going down the sand dunes by sitting on the board. Had a good workout climbing back up to repeat.
A Day in Santiago 📍
The highlight of our day in Santiago was walking up San Cristóbal Hill to get these gorgeous views of the entire city.
To do a report back in Grade 3 about the Andes mountains and then to be here to see it in person, and it's all covered in snow, was unbelieveable!
Pisco, wine, empanadas, and seafood is Chile done right! I ate, learned, explored, spoke Spanish, and lived life as a local.
I've been tweeting about my travels and food adventures with the hashtag #TheRoadWellEaten.
Follow me @MichelleHarjani.